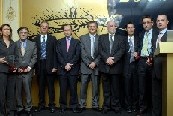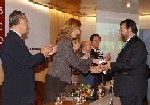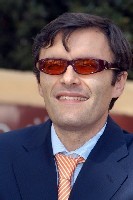 COMMUNICATION AWARDS FROM THE CARLOS III UNIVERSITY IN MADRID
Special mention award for Discapnet
AWARD GRANTED BY THE ASSOCIATION OF PERSONS WITH DISABILITIES OF ALBACETE (AMIAB)
Award for the work in favour in integrating people with disabilities
SPECIAL MENTION SAP AWARD TO TECHNOLOGICAL INNOVATION
Convening entity: SAP.
Candidacy presented: Commitment to new management models.
AWARD FOR RATIONALISING SPANISH HOURS
Convening entity: Independent Foundation
Candidacy presented: Occupational/family life conciliation program of Fundación ONCE and the FUNDOSA Group
INFANTA CRISTINA IMSERSO AWARD CATEGORY: COMMUNICATION. SUBCATEGORY: TELEVISION
Convening entity: IMSERSO
Candidacy presented: "Human disabilities" documentary series.
"VALENCIA SUMMIT INTERNATIONAL AWARD"
Under the category: "Non-government organizations and non-profit organizations that have carried out sports-related activities and integration of collectives under a risk of social exclusion".
Awarding entity: Noos Institute
INFORMATION SOCIETY AWARDS OF THE REGIONAL GOVERNMENT OF ANDALUSIA.
Awarding entity: Council for Innovation, Science and Company under the Regional Government of Andalusia
AWARD FROM THE SPANISH MULTIPLE SCLEROSIS ASSOCIATION (AEDEM) "TO SOCIAL WORK"
Awarding entity: Spanish Multiple Sclerosis Association (AEDEM)
BRAVO AWARD. PUBLICITY CATEGORY
Awarding entity: Episcopal Commission of Social Media
Prized the Institutional Publicity Campaign of ONCE and its "Bienvenido" Foundation, carried out MacCan Ericcson
12 MONTHS, 12 CAUSES AWARD TO THE BEST SOCIAL AWARENESS SPOT
Convening entity: Tele 5
Prized the Institutional Publicity Campaign of ONCE and its "Bienvenido" Foundation, carried out MacCan Ericcson
OTHER AWARDS:
In November 2005 we received the FEDEPE AWARD TO THE COMPANY DRIVING POLICIES FAVOURING WOMEN.
Sponsoring entity: FEDEPE
Candidacy presented: Policies favouring women implemented at Fundación ONCE and its Group of companies.
Winterthur Economics Patronage Award (1996) for Fundación ONCE
Premi Fundació Pimec D´Ambit Social (1994) for the Fundosa Group