Servimedia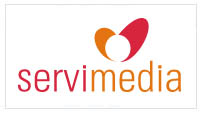 Servimedia, created in 1988, is today the reference agency in social information and communication on a national level, as well as the third Spanish general content news agency.
Through its News Ticker, present in the most prestigious Spanish media, Servimedia has gotten social information distributed on a daily basis to an increasingly notable position in our society.
In order to facilitate a comprehensive service, Servimedia has developed over the years new products and services that are essential to cover the information and communication needs of public or private institutions. In this sense, in addition to the News Service, Servimedia works in other areas such as Communication, Printed and Digital Publications, Press summaries, Radio and TV, Publicity and Corporate Image.
Today, Servimedia has a headcount close to one hundred professionals, 43% with some kind of disability.
Servimedia is part of the Fundosa Group, business division created by Fundación ONCE in 1989 in order to generate stable jobs for persons with disabilities, being and essential element to transmit the message of a society with equal opportunities.