New Technology area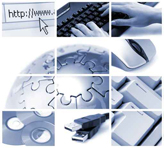 Technology must be accessible and usable for all, it must also be a tool at the service of persons with disabilities, that ICT and other emerging technologies must be able to contribute to the independence of persons supporting them in their daily life, leisure chores and occupational life, making them more independent; this is the main set of objectives in which this Department focuses on.
Publication of good practices in terms of accessibility to ITC, training on universal design in technology, collaboration in the creation of standards and rules for greater accessibility of technology resources, are just some of the examples of activities aiming to achieve our objectives.
Through the Department of Technology and Accessibility and R&D, Fundación ONCE is at the forefront of research and innovation, taking part in initiatives such as the Seventh Framework Program of the European Union, Horizon 2020, etc.