Mission and Values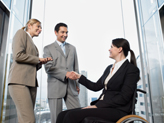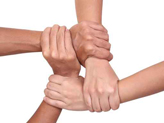 Fundación ONCE for Cooperation and Social Inclusion of Persons with Disabilities (hereinafter Fundación ONCE) was born in February 1988, through resolution of the ONCE General Council, and was presented to society in September of that same year as an instrument for cooperation and solidarity of Spanish blind people towards other collectives of persons with disabilities to improve their life conditions.
Since its origins, the collective of blind people had a solidarity vocation with other groups of people with disabilities, depending on the possibilities of each moment in time. In the mid 80s, with the reform of the coupon, ONCE was able to progressively add non-blind vendors of coupons, integrating over 10,000 persons with other disabilities between 1985 and 1987. Yet another step forward in this solidarity effort took place in 1988 with the creation of Fundación ONCE.
Objectives and guidelines
The mission of ONCE Foundation is to contribute to the complete social inclusion of persons with disabilities, contributing to realise the principle of equal opportunities and non-discrimination.
To achieve its mission, ONCE Foundation has defined the following objectives or primary goals:
To promote full occupational integration of persons with disabilities.
To promote professional qualification, occupational competences as well as personal and professional skills, and determine factors in terms of employability of persons with disabilities and therefore in the occupational integration process.
To promote universal accessibility and design for all.
The objectives or primary goals of ONCE Foundation shall be executed considering two fundamental values:

To promote solidarity and social cohesion articulating activities, projects and programs aimed at all persons with disabilities regardless of the type of disability through the execution of its activities in Spain.
To obtain, in order to fulfil its objectives, the cooperation, collaboration and commitment of all administrations, institutions, agents and entities, public or private, involved in social and financial development.

In addition, the activities of ONCE Foundation is governed by the following principles: Good governance, transparency and excellence of criteria and procedures, in the definition of its business priorities, in the use of its resources and the communication of its results.
To complement the activities of the Public sector, seeking to ensure that the activities of the Foundation do not gradually incur in the dynamics of substituting, de facto, the obligations of the authorities, in any aspect of policy relative to persons with disabilities. However, the Foundation may cooperate with the public sector, through the adoption of resolutions or agreements for the promotion of projects or programs of any kind, as long its produces a significant contribution from them.
Cooperation with the most relevant public or private agents, establishing relationships of mutual trust and always ensuring common interests.
Seek that any actions performed for the execution of its purposes have social impact and capacity to transform social reality.
Social innovation, promoting initiatives, leading processes, projects and mobilizing all agents and resources in compliance with its goals.
Independence and impartiality with regards to any public or private power.
Environmental sustainability and respect in the execution of the activities performed to achieve its goals.
Actual and effective equality between women and men
Potential beneficiaries shall also include Spanish entities, with a legal status, that in accordance with its articles of association execute an activity that is in line with the activities of ONCE Foundation, in accordance with the provisions set forth in the Articles of Association. Any Spanish citizen affected by a physical, psychic, sensory or mental disability may also become potential beneficiaries of the Foundation, as per regulation and current legal qualification of disabilities. Exceptionally, the protective actions of the Foundation may be extended, once approved by the Board and on proposal of the Permanent Commission, to individual or legal entities of other nationalities that fulfil the above requirements. The beneficiaries must also fulfil any other conditions specifically established in the different plans and programs approved by the Board of Fundación ONCE or its Permanent Commission.
Since its incorporation in 1988, until December 2015, Fundación ONCE has supported 37,712 projects presented by individual or legal entities, representing over 1,900 million Euros.
ONCE Foundation and ONCE share the same values: Communication. Solidarity, Confidentiality, Equity, Confidence, Honesty, Modesty, Respect, Commitment, Professionalism and Responsibility.