Jobs and Training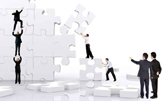 FUNDACIÓN ONCE has made a decided commitment towards an inclusive market that, from the paradigm of equal opportunities and non-discrimination, approaches employment of persons with disabilities as an opportunity for all.
Job creation for persons with disabilities is, since its creation, the maximum priority of Fundación ONCE, from the knowledge that employment is an essential factor for social inclusion of persons with disabilities. Therefore, the main objective of Fundación ONCE, bearing social reality in mind as well as the specific needs of persons with disabilities in Spain, entails job promotion for these persons, as an intermediate step that is essential for their complete social integration. In order to effectively fulfil this goal, Fundación ONCE invests each year at least 60% of its budget to the Training and Employment Plan
The main guidelines of Fundación ONCE to promote jobs for persons with disabilities and contribute to improve their employability conditions are:
Endow persons with disabilities in employable age of professional qualifications and the occupational skills necessary to access the job market under equal opportunities, through the execution of training activities;
Promote the creation of jobs for persons with disabilities, using different avenues and formulas found in Spanish legislation;
Support the creation of jobs in cooperation with entities of the associative movement of persons with disabilities and their families.
Job training constitutes a determining factor of people employability. Only by reaching high qualification and professional competence levels is it possible to advance in the participation in the employment market. This premise has always been guided by the activities of Fundación ONCE.
The execution of direct job training activities is carried out through FSC-INSERTA Association (within the scope of the Operating Program against Discrimination co-financed by the European Social Fund) and FSCDiscapacidad Association.
The training portfolio has always been in line with the following criteria:
Flexibility: to adapt to changing demands of the employment market.
That allows endowing sufficient knowledge, dexterity and technical skills for suitable performance at the workplace.
That allows developing social and personal skills that are essential for optimal professional performance.
Accessible: endowing each training action of technical adaptations, number of hours, methodology and material and human resources necessary according to specific needs of each one of the persons with disabilities taking part.
Since the start of its activities, Fundación ONCE works with the public administration, businesses, social agents, associative movement representative of persons with disabilities and society in general in the execution of programs and projects that facilitate professional qualification and access to the employment market of persons with disabilities, through training and creation of stable jobs.
Fundación ONCE commits to quality employment (stable jobs and the promotion of access to jobs of greater qualification); as well as to favour, in terms of equality opportunities for the more disfavoured collectives: women with disabilities, persons with seriously affected disabilities (disabilities greater than 65%), young persons with disabilities, persons with disabilities above 45 years of age and persons with disabilities that, as a result of their disability, individual and/or social situations have greater difficulties to access jobs and/or maintain them.
In the last 20 years Fundación ONCE has created over 97,000 jobs and occupational workplaces for persons with disabilities. These figures convert Fundación ONCE into the main social and economic and employment operator in the disability sector in Spain.