Digital Solidarity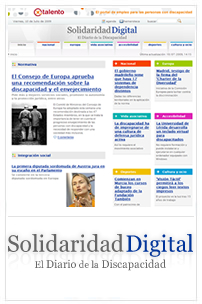 Fundación ONCE has developed, with co-financing from the European Social Fund, within Discapnet, the daily edition of the Digital Solidarity newspaper (www.solidaridaddigital.com ). A newspaper specialised in information on disability that has the regular sections of a digital newspaper. It is an initiative, kicked off in March 2001, pioneer in Europe and Spanish speaking countries, in that it is the news Internet newspaper on disabilities in Europe and the only one in Spanish. The new digital network makes use of new technologies to publish news related to the world of disabilities.
The 'Solidaridad Digital' (Digital Solidarity) newspaper, produced by FSC Inserta offers visitors each day, about 40 national and international information, interviews, reports and news covering subjects such as social policy, education, treatment, science and technology, leisure, sports, agenda and social works.
The goal of this initiative is to have a useful tool to overcome discrimination barriers and prevent this kind of exclusion that may arise if disabled do not have access to new technologies.